TreoAlarm Review
---
TreoAlarm is a alarm clock for the PalmOne Treo line of smartphones. It not only offers 8 customizable alarms, but takes advantage of the fact that a Treo has a permanent internet connection. This is used to display localized weather forecasts as well as time synchronization. This review discusses version 0.99d released in May 2005.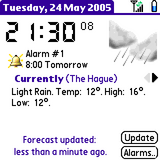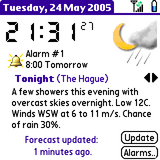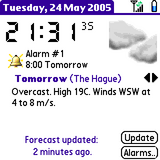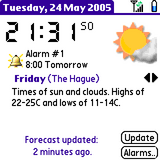 The main view of TreoAlarm shows the current time, the next alarm and the current weather. Conveniently is also displays when this weather report was retrieved. The weather forecast can be scrolled to the right, displaying the forecast for the next couple of days.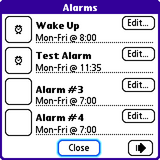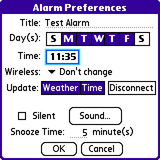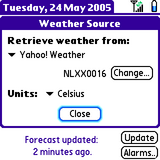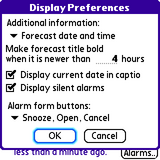 Setting the alarms and weather preferences is a breeze. For the source of weather information TreoAlarm uses the US National Weather Service, Canadian Weather Office or Yahoo! Weather. Instead of pulling down the (large) HTML pages of these services, the TreoAlarm application queries a script on www.treoalarm.com which extracts only the relevant data to be sent to the Treo. This makes the download much smaller which speeds up the update and saved money. The downside is that www.treoalarm.com caches the data for 15 minutes (if someone in the same city has also requested a weather update within 15 minutes prior to your request, www.treoalarm.com does not query the source server) and it introduces an external dependency. I would have opted to receive an RSS feed directly to the Treo. Such services can be found on www.rssweather.com and www.anti-mega.com/weather/ but TreoAlarm currently does not support RSS feeds.
For the time synchronization the Time Procotol described in RFC 868 is used. The time server is not configurable and is set to time-a.nist.gov. Although this protocol is less accurate than NTP I found my Treo in sync within a second of my NTP synced laptop.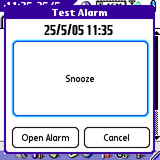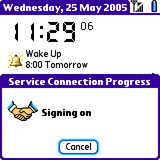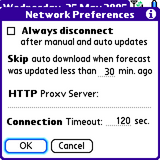 When a alarm goes off, TreoAlarm shows it's own alarm pop-up. It does not use the PalmOS general notification manager. This means that 3rd party application like Butler will not notice the alarm. The largest area of the pop-up is a snooze button which makes the alarm re-appear in a few minutes (configurable per alarm). When the alarm is cancelled, you are returned to the application that was running before the alarm occured. When you select "Open Alarm" however, TreoAlarm is opened, and the weather forecast is shown. It is important to note that the Treo KeyGuard is temporarely disabled when the pop-up is shown. This makes it easy to snooze the alarm when you are not fully awake yet.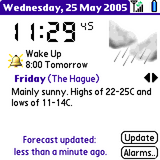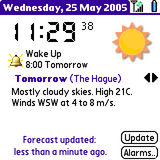 All in all TreoAlarm is a very usefull and fun application. It combines a simple yet effective alarm clock with realtime weather forecasts and time synchronization. It is still in beta, but the only thing I found wrong with it is that the icons displayed with the forecast can be quite off. Of course that could be because the Dutch weather is very unpredictable. ;-)